About the Product¶
Sennheiser MobileConnect is an assistive and personal listening solution that streams live audio content via WiFi to any iOS or Android phone in the room. As no additional receivers are needed, costs and maintenance effort for operators are kept at a minimum.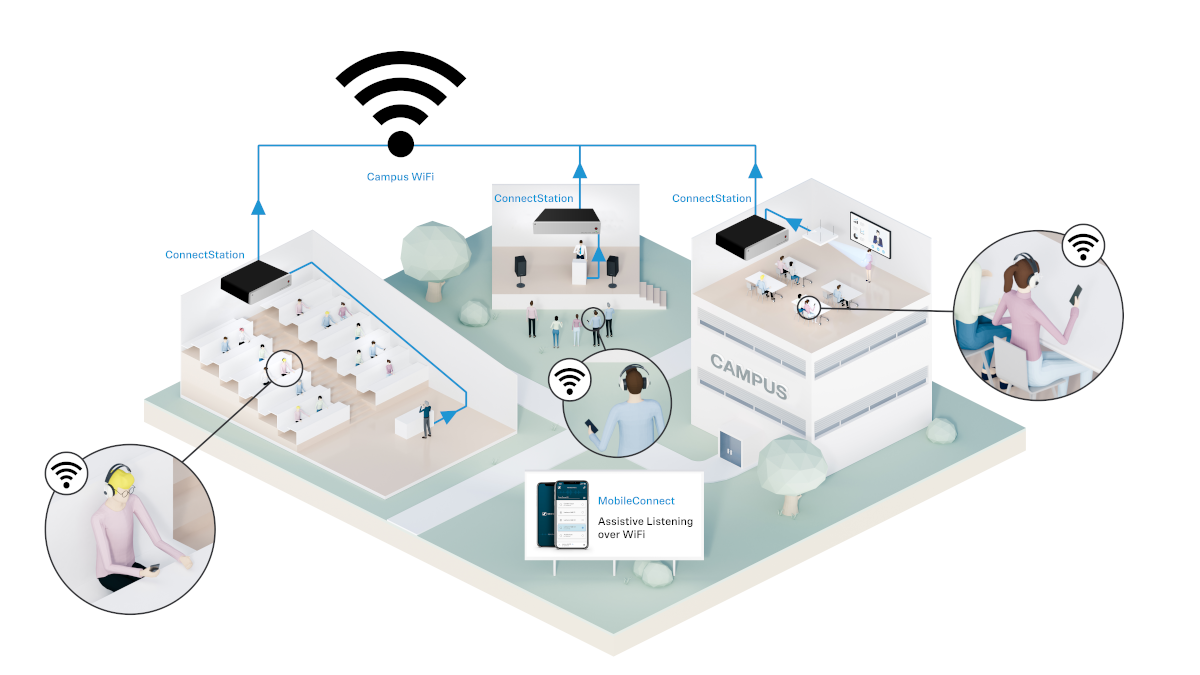 The MobileConnect system works in the following way: it enables live audio streaming in the network. The typical input source is a microphone that picks up the voice of a speaker/moderator and the audio output can be listened to on a mobile device. The system consists of MobileConnect Station, MobileConnect Manager and MobileConnect app.

MobileConnect Station
The MobileConnect system is highly scalable in the number of audio streams that can be created, just by adding network streaming transmitters - the so called

MobileConnect Station. The MobileConnect Station is integrated into the existing campus network and distributes the audio content via WiFi to the MobileConnect App on the user's personal smartphone. In larger environments like university campuses, multiple rooms can provide the assistive listening service using an individual MobileConnect Station as an "Audio-to-Network bridge".
MobileConnect App
The assistive listening end users are receiving the audio streams over WiFi using the MobileConnect App (available at the Apple App Store and the Google Play Store). This app was designed to support hearing impaired people using our Personal Hearing Assistant. Wired headphones or an inductive neck loop for hearing aid connectivity (T-Coil-Position) are connected to the end users smart device to achieve the excellent experience.
Manager and Standalone Mode
The MobileConnect system can be operated and administered in two modes of integration - Manager and Standalone Mode. Regardless of the number of devices, the MobileConnect Stations can be managed by a single management tool, the MobileConnect Manager or individually. Choose the mode more suitable for your premises.
Channel Access
The end user can connect to a location specific audio streaming channel by browsing the channel list within the App or by using the App to scan a specific QR code. Scanning a QR code or typing in manually a channel ID is the only possible procedure to connect users, if channels are hidden on purpose. The QR codes include all audio streaming channel connection details.
MobileConnect API
Until now, MobileConnect operators needed to print or download an audio streaming channel specific QR code to be used e.g. for a location specific presentation. With the MobileConnect Manager v 1.3.0, we introduced the MobileConnect API for Manager Mode. The MobileConnect API enables a new way to implement automated Digital Signage workflows via remote access connectivity. The main advantage is enabling an automated workflow to minimize management efforts for changing audio streaming channel details and the associated QR code update activities. That means, MobileConnect can now be connected to an already installed Digital Signage Ecosystem to display not only location specific but also session/appointment specific QR codes on any connected peripherals like displays or digital door signs.
Choosing Mode of Integration¶
In Manager Mode all MobileConnect Stations in the network can be conveniently administered and managed remotely by the MobileConnect Manager software.
This mode is suitable for using multiple (>5) MobileConnect Stations.

The MobileConnect Manager represents the single point of administration for all MobileConnect Stations.

It is a highly scalable solution: additional Stations can easily be added to the system.

It provides the full range of MobileConnect capabilities, e.g. receiving cloud software updates or using different user roles for accessing the MobileConnect Manager.

MobileConnect App users can easily view and access the streaming channels automatically or by scanning a QR code.

You can find a list of system requirements for using the Manager Mode here.
In Standalone Mode a single MobileConnect Station can be run and administered using its local web interface.
This mode is suitable for using one or few (<5) MobileConnect Stations.

Each MobileConnect Station has to be configured and managed separately via its local admin interface; there is no centralized configuration.

This mode is easier to install and integrate into the network and requires less IT support.

The MobileConnect App users can only access a streaming channel by scanning a QR code.

Standalone Mode users can always switch their system to Manager Mode.

This mode is only supported for MobileConnect Station v2.

You can find a list of system requirements for using the Standalone Mode here.
System requirements for the two modes are provided here: